Chapter - 9 THE DIVINE LANGUAGE OF THE UNIVERSE "The Awakening"
CHAPTER 9 * SPEAKING THE DIVINE LANGUAGE OF THE UNIVERSE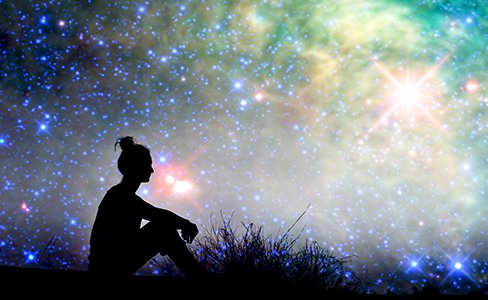 CHAPTER 9
SPEAKING THE DIVINE LANGUAGE OF THE UNIVERSE
We are all created out of compassion by the Creator and it loves us unconditionally. And, all of us have a test to take in this life indeed:
Just like the Creator loving us unconditionally; the same we feel for each other.
As soon as we accomplish this, it would mean that we have passed the test! Do we really forgive the ones around us, due to the Creator, without discriminating their colour, language, religion, society and prospective; even though their visions are different from ours?
Whenever we are furious, nervous, and angry or under a circumstance of self-confrontation, whatever we experience whether it is concluded fairly or not; anger, fury, offence and petulance decrease the energy we produce. How can we reach the desired life with such decreased energy?
What you need to do is, actually very simple: "Do not judge! Do not criticize! Do not blame! Do not look for a guilty! Give up on considering yourself guilty! Cancel every preset sentence affectionately which claim that you cannot or you cannot achieve! Everyone is your play mate and they act the parts you provided." Engage the process with taking a step forward for yourself. All the preoccupations concerning your future will vanish as a matter of course as you carry on forgiving your past through getting rid of your judgements. Therefore you can use the remaining energy for attracting the miracles into your life easily.
I strongly believe that you all can accomplish this. Even if I changed in spite of my stiffness and inflexibility of change, everybody can change.
I need to love and accept everyone unconditionally in order to sustain my spiritual relation with God; strongly, healthy and purely. The spiritual relation between me and the Creator would get stronger as long as I love and accept everyone unconditionally. Whenever I let go of disappointments, rage, fury, touchiness and all of my confrontations; this is when my prayers and wishes would be heard by the Creator due to our strong relationship.
In order to speak the divine language of the universe, a good, strong relationship the Creator is a must. I tried my best to share my experiences with you intimately while going through this path with honesty, so that you can create your own relationship...
You will soon notice that you are on your own spiritual journey...
Let the divine order to help you in this process. The owner of the eternal intelligence provides a divine order and this order has its own perfect flow. The divine order prepares and brings everything to you. If you trust the flow; that would mean that everything is okay...
The relationship would get stronger and stronger as long as you trust to the divine flow with body and soul; and you will explore the divine language of the universe.
Remember! You are never alone on this exploration.
I have forgiven and accepted myself and the other as how we are... I do deserve abundance and plenitude. I do deserve health. I deserve a peaceful, healthy, easygoing relationship with my partner. I do deserve self improvement and finding my purpose of life...
I hope you affectionately share the information I have stated in the book....
With love
Bulent Gardiyanoglu
En güncel gelişmelerden hemen haberdar olmak için Telegram kanalımıza katılın!